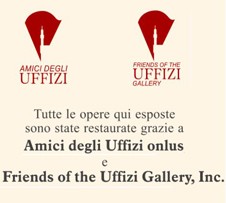 Sponsors
UnipolSai Assicurazioni S.p.A. – hosts of the legal seat and the secretariat office of the Association since its establishment.
Casa Editrice Bonechi – printers of the Giornale degli Uffizi from the first issue.
Ente Cassa di Risparmio di Firenze - steady supporters of the many initiatives of the Association.
The Amici degli Uffizi have been and still are supported by a very large number of public and private institutions, as well as private citizens, sharing the aims and intent of the Association:
AFFRESCO Srl, AIDDA, AMANDA Srl, Adrienne e Andrew LUSSU, Marian e Lawrence APFELBAUM, ART CLUB Srl, ASSOCIAZIONE INDUSTRIALI FIRENZE, ASSOCIAZIONE NAZIONALE ESERCENTI CINEMA, Rosita BALESTRI GALANTI, BANCA C. STEINHAUSLIN & C., BANCA MERCANTILE ITALIANA SpA, BANCA PICTET & Cie, BANCA TOSCANA, Barbara BARTOLOZZI, Maria-Rosa BEMBERG, Anna BENEDETTI, Aureliano e Maria Teresa BENEDETTI, John Treacy e Darcy F. BEYER, BOEHRINGER INGELHEIM, Jean BONNA, Enrico BRUSCHINI, Stelio BUZZELLI, Edo CAFISSI, Giorgio CALLIGARIS, Philippa CALNAN, Ida CANGIOLI BARBERIS, E. CAPON, Alberto CARAMELLA, Alberto CARMI, CLASSICO ITALIA, COLGATE PALMOLIVE S.p.A., COMUNE DI MUGGIO', CONFERENCE RECTUERS UNIVERSITES SUISS, CONVENTION MEETINGS ORGANIZZATI, CRAIG CAPITAL CORPORATION, CRAL TELECOMUNICAZIONI, Derek CROWSON, Claudio DE POLO, Alfonso DE VIRGILIS, Christoph DÖLZ, Almina DOVATI FUSI, EDS SISTEMI SANITARI, ENIC S.r.l., ESPERIENZE ITALIANE TRAVEL, Luisa ESPIRITO SANTO, EUROPA METALLI SpA, F. e P. SpA, FANI SpA, FEDERAZIONE NAZIONALE CAVALIERI DEL LAVORO, Wanda FERRAGAMO MILETTI, Lola FINKESTEIN, Paolo FOLONARI, FONDAZIONE BIBLIOTECA di Via Senato – Milano, FONDAZIONE CARLO MARCHI, FONDAZIONE CASSA DI RISPARMIO PISTOIA E PESCIA, FONDAZIONE SCUOLA DI MUSICA DI FIESOLE, M.sa Rosaria FRESCOBALDI BONI, Vicky GALATI INDELLI, Bettie GAGE LIPPIT GAMBACCINI, Corrado e Costanza GALLI, Piero GAMBACCINI, Carlo GATTAI - C.T.C., Franco GHERI, GIUNTI GRUPPO EDITORIALE, Sergio GIUNTI, Judith GOLDBLATT, Giuliano GORI, Jane GRIFFIN, Elena GROSSI FANTASSI, Maria Luigia GUAITA, Theodore e Anjela GUARRIELLO, Eileen GUGGENHEIM, Andrew GUINOSSO, Il Sole 24 Ore, INDUSTRIE BITOSSI SpA, INSTITUTIONAL INVESTOR, IVE Srl, William Mitchell Jr. JENNINGS, Kenyu Kazumune, KNAUF ITALIA, KYOTO INTERNATIONAL FRIENDSHIP AND CULTURE ASSOCIATION, LEO FRANCE Srl, LEVIN c/o Ruth Ann Frank, LOCCHI - Moleria Vetro Locchi, Giampaolo MAESTRUCCI, Leonella MANGONI MATTIOLI, Mirella MANGONI, Maria MARCHI PALLAVICINO, Fausto e Linda MARIOTTI, Pier Giovanni MARZILI , Maurizio MATTIOLI, MENARINI Srl, Shriley MICHAEL, Dianne MODESTINI, MONTE DEI PASCHI DI SIENA SpA, Simonetta MURRAY LOMBARD, NARDINI Editore, NEWTOURS, NUOVO PIGNONE SpA, O.E.S. Capitolo Beatrice n. 9, O.I.C. - Organizzazione Internazionale Congressi, Leo S. OLSCHKI Sas, Valeria e Federico ORIANI, Vittoria PANCIOLI SILVESTRI, Giuseppe PANZA di BIUMO, Alberto Pecci, Elda Pecci, Elena Pecci Cangioli, Paola PECCI SALVADORI, Anna Maria PILLI DA MILANO, PINEIDER Srl, PITTI IMMAGINE, Piera PONTELLO, Francesco PREDIERI, Ottavio PRESTINI, PROGETTO FIRENZE, PRO-MEET Srl, Tiziana PUGLIESE NICOLOSO, REGIA CONGRESSI Srl, REGIONE TOSCANA - Giunta Regionale, Giovanni RICASOLI FIRIDOLFI, Diana RICHMAN, Giovanni RIMBOTTI, Pier Francesco RIMBOTTI, Vittorio Emanuele RIMBOTTI, Maria Vittoria RIMBOTTI COLONNA, Ursula RIMBOTTI FAURE, Viviana RIMBOTTI WALDBURG SCHLOSS, Luisa ROMAGNOLI, ROTARY CLUB FIRENZE OVEST, RUBINETTERIE ZAZZERI SpA, Cosimo RUCELLAI, Delia SABATINI, SALFIN HOLDING SpA, Aldo SALVADORI, Paola SALVADORI, SARTORIUS SpA, SOROPTIMIST CLUB, STARHOTELS SpA, Silvia STEINHAUSLIN, Laura STERPOS GUIDORIZZI, TAMINI, TARGETTI Sankey SpA, TELECOM ITALIA SpA, Ettore e Simonetta TEMPESTI, Alesio UGARTECHEA PADOVANI, UNICREDIT BANCA MOBILIARE SpA, UNIONE INDUSTRIALE PRATESE, Paola VALORI, Monica e Adrianus VERVOORT, VIVAHOTELS, WORLD MONUMENTS FUND.